Let's see, what to tell about this one.
Well….. It belonged to me for a short while.
To start. I was contacted one day out of the blue by a fella whose brother was a member of one of my woodworking forums and that brother had shared a link to my Silverdome page with him. Seems this fella was a "Rolite aficionado. He had several of them and had friends that owned Rolites. We exchanged emails for a week or so and then as so often happens, we just both faded away from the conversations. For those that don't know. Rolites are a type of hard sided trailer that the walls fold down inside and then the roof lowers to make a compact towable rig. When all works well, you just push a button.
During that same summer, we had a small crew of young people working on campus for a state program of some sort, I think it was called "Michigan Works" or something like that. One of the young men contacted me one day and said he had heard I was interested in old trailers.
Well, sure I am…. Why?
I've been living in one of those pop up sorta trailers in my sisters side yard this summer and I will be leaving for the Army in a few weeks. I was just wondering if you might be interested in buying it.
Living in a pop up all summer !!! Sure I'll come around and look at it. How much you hopin' to get for it?
$100.00
Now you see, I don't really have much interest in buying a pop up, but for one in particular. A very small Apache Eagle like I owned back when my kids were little.
So he gave me the address and I drove the 1.5 miles over to his place to look at it.
When I pulled in the driveway and saw what it was I reached in my wallet, handed him $100.00 and asked when it would be available for me to come and pick up. I just knew that I had to have it, even if it was a total piece of junk, for that money I would at least get the makings of a good utility trailer out of it.
He said……. Tomorrow.
Whaaaa….. Okay, see ya tomorrow evening.
Well…… The best laid plans……. And all that stuff ya know.
Remember I said it was 1.5 miles from home? Yep, that's right, it didn't make the trip.
Because he had put all kinds of bracing and screws and stuff in it to hold it up and I didn't feel like undoing it all just for a mile and a half, I just hooked up and started for home. Nice and easy, but not easy enough I guess.
The poor thing looked like something Salvador Dali would have painted by the time I got it home.
I found there was no hope of getting all the Rube Goldberg of chains and gears and motors and cranks to ever work again the way they should and proceeded to dismantle it.
For my efforts I came out of it with one very nice utility trailer that I sold in just a couple days for $150.00, Lots of windows, a small stainless sink, two really great posters of Raquel Welch and Farrah Fawcett (yea, you know the ones I'm talkin' about) and the two way refrigerator that is now housed in the Silverdome.
I'm okay with it all.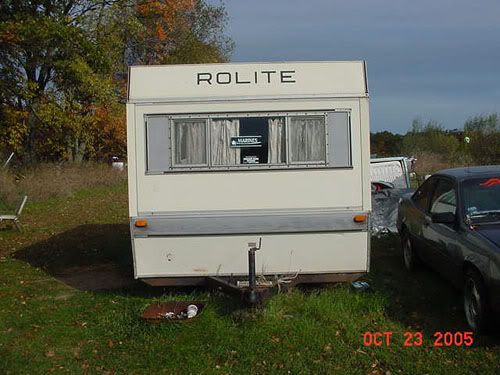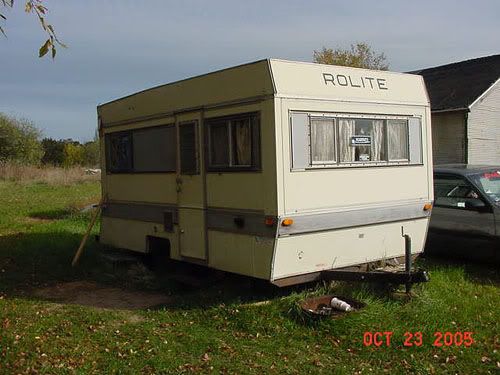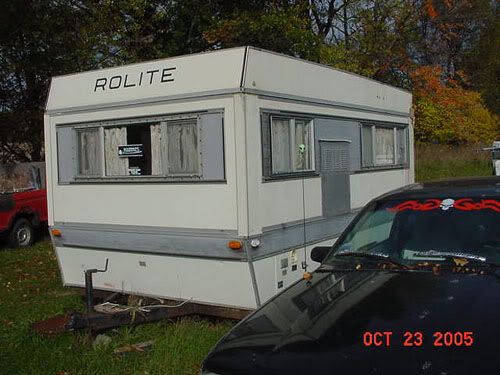 Oh! I sent some pictures to the Rolite guy I had exchanged emails with and he replied. So….. The painted Rolite really does exist huh?
Must be a slight bit of a rarity.