*These are posts of ones I made on another forum, and reposted here for the benefit of the members here as well as some additional eyes on my little project and hopefully some assistance with not only in I.D.'ing it but some more experienced knowledge assisting with my future dilemmas and encounters.*
I am starting out cleaning up and tearing out my Vintage RV so I can
finally
rebuild it. I will get as many pics as I can as well as measurements to possibly help others looking to eventually do the same thing.
I plan on upgrading the interior walls from flimsy weak paneling to stronger (and heavier I know) 1/4" sanded oak plywood to help reinforce it and give it some more strength.
My initial pictures will show it when it was full of crap and I was still using it for short term storage. and as I am cleaning and tearing things out, my few surprises and expected flaws.
I have pulled out one window and have found the wood inner wall window frame is literally crumbling just like a cracker! I am also finding expected mold and water rot all thanks to a leaky ceiling that was left un-repaired and never sealed..
I will update with what I find, and pics from start to finish and my few changes.
Now on to some starter pics!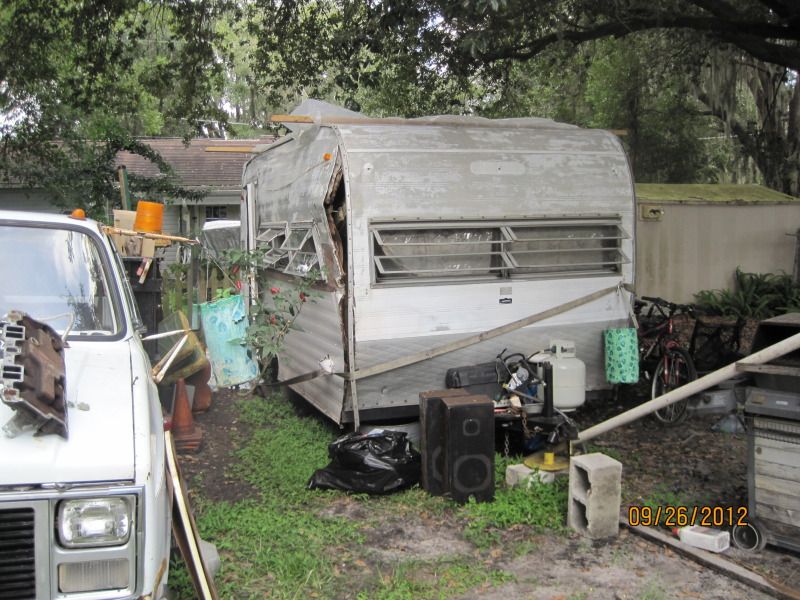 Original wheels and drums..
Inside trunk Left side
Inside trunk Right side